Laws facing the oil and gas industry are constantly changing. We keep our members and the public informed on laws about emissions, production and more.
With topics like pollution and means of production, IPANM stays informed and informs the public on new and current issues.
New Mexico is one of the most important states in the industry. Staying informed on local and national industry news makes our state one of the best.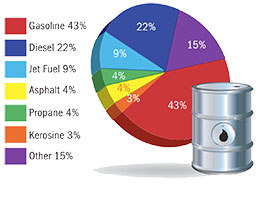 The Independent Petroleum Association of New Mexico
What's in a Barrel of Oil?
In the United States, one barrel of oil is 42 gallons. Those 42 gallons can be used to produce anything from gasoline to jet fuel to asphalt. Oil is a central part of many modern amenities. IPANM helps the independent gas and oil producer to continue the integral work that needs to be done to produce oil and keep the industry alive and well.