Benefits of Membership
From priceless professional relationships to deductible dues, IPANM membership is the investment your company needs.
Our Members
IPANM was founded in 1978 by a concerned group of New Mexico independent oil and natural gas producers, and the majority of our membership is still comprised of independents, both large and small.
However, we are not just an association for producers and operators. Drilling contractors, service and supply company owners and managers, and royalty owners also comprise a significant percentage of our membership. Other members are attorneys, accountants, and other professionals whose livelihood is tied directly to the ultimate success of the energy producing sector.
Individual Membership
Perfect for Supporters of IPANM
Corporate Membership
Unlimited Number of Employees
Royalty Membership
Must Receive Board Approval
Dues Are Deductible!
"The percentage of your 2017 membership dues used as lobbying expense was 19%.  Therefore, 81% of your IPANM dues are deductible in calculating your taxable income for the fiscal year in which the dues were paid.  This information will be needed in preparing your company's tax returns."
Envelope Flyer--Contact pam@ipanm.org to get a stack of flyers to mail out in your correspondence.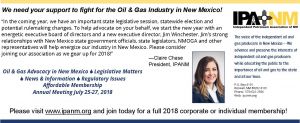 Click here to Join Today
For more information about IPANM memberships, contact Pam Garlinger or click here.
Protect, Defend, Promote
Since its start in 1978, IPANM continues to grow and provide the services that protect, defend and promote the industry that is the very foundation of our way of life.
A primary goal of IPANM is to educate the public about the benefits provided by our industry.  Oil and natural gas is the WORKHORSE of New Mexico's economy.  It is vital the public understand that as an industry we continually contribute to a better New Mexico.
IPANM monitors industry issues on the state and national level and gets involved when necessary.  IPANM actively works to promote legislation in New Mexico, works with state regulatory agencies, and even pursues litigation when called for.
Additionally, IPANM's more than 300 members enjoy technical education and networking opportunities.
We educate the public about the enormous positive impact our industry has on New Mexico's economy, and we challenge anti-industry attack groups who seek to intentionally deceive the public.
New Mexicans can feel very proud of this industry that does so much for all of us.